Mobile Auto Detailing is a professional service that brings a detailer to the customer's vehicle. This service is very popular for clients with busy schedules.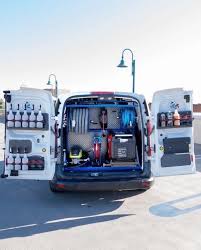 Headlight restoration is another service a mobile detailer can offer. This process gives your headlights a like-new appearance.
If you want to operate a mobile car detailing business, you must first decide what services you will offer. Some of the more popular services include a thorough exterior wash, vacuuming the vehicle's interior, cleaning windows and mirrors, removing tar and bug-/road grime, and dressing the tires and wheel wells. Some mobile detailing companies also offer glass polishing and paint sealant applications. It's essential to have a reliable service vehicle and enough tools and supplies to perform the job correctly. A good investment in quality products and tools will increase the longevity of your business and provide better results for your customers.
You may wish to obtain a professional certification in the field of auto detailing to add credibility and enhance your marketability. In addition, working experience in a commercial car wash or detailing shop can help you develop your skills and become proficient with the industry's best practices. A good place to start is the International Detailing Association, which offers a widely respected certification program.
Before you start a mobile detailing business, check with local officials regarding licensing and permits. Most states require a business license, and additional permits may be required if you plan to sell any products. You should also get liability insurance to protect yourself against potential property damage.
A good way to promote your mobile detailing business is by word-of-mouth recommendations from satisfied customers. You can also advertise your business in local media and use social networking sites to reach a wider audience. You should also develop a marketing plan to attract new customers.
Whether you are a home-based mobile auto detailing business or a full-service car wash, the key to success is providing excellent customer service. You can achieve this by focusing on your customer's needs and ensuring that your employees are trained to do their jobs well. In addition, you should create a unique brand name and design a logo to distinguish your business from the competition.
The first step to starting a mobile car detailing business is to create a budget for your startup costs. Your total expenses will vary depending on the type of vehicles and services you offer, but you should include everything from rent or lease payments for your service vehicle to your initial business expenses. It's also important to consider the costs of your advertising campaign and the cost of any necessary equipment.
Cleanliness
The cleanliness of a mobile detailing environment is important. It helps to prevent contaminates from the outside world from getting into the cleaning process and possibly damaging the vehicle. A professional mobile detailer should always wear gloves when working in the interior of a customer's car, and they should be mindful of where they step on the carpet and seats.
A clean engine can prevent fires and other problems under the bonnet. Instead of hosing down the engine, mobile detailing services use steam to dissolve the toughest gunk much more quickly. This means your car will be clean in half the time. Pet hairs are another issue that can be a problem for many people, but there's a special brush specifically designed to make it easy to remove them.
A good mobile auto detailer will pay attention to the cup holders and air vents as well as the floorboards and seats. They'll wipe them down, vacuum them and, if necessary, treat them with special cleaners and conditioners to protect the upholstery from UV damage. They can also provide a full interior odor removal service by using a commercial quality steam cleaner that deep cleans and sanitizes, vanquishing odors at their source.
Investing in high-quality tools and products is essential to the success of a mobile auto detail business. This will ensure they work better and longer, and they will require less maintenance over the years. Buying in bulk is usually more cost-effective, and it allows the business to have adequate supplies for each job.
Starting a mobile auto detailing business can be an excellent choice for those who want to run a successful and profitable business from home or at their own location. They can choose the package that works best for them, and they can also choose to focus on environmentally-friendly solutions. Customers are increasingly aware of sustainability and are willing to pay more for this. In addition, the startup costs for a mobile auto detailing business are much lower than for an in-person car wash or detailing service.
Safety
A mobile detailing business is a convenient service that brings auto detailing professionals to the customer. It's ideal for people with busy schedules who want to have their car looking like new. However, it's important to take safety measures when starting this type of business.
Before detailing a vehicle, make sure that you have all the tools you need to complete the job. You should also be familiar with the materials and chemicals you will be using to avoid injuries or accidents. For example, it's a good idea to wear gloves and eye protection when applying products to the car. Moreover, it's crucial to read the Safety Data Sheets for each chemical.
In addition to the equipment you need to perform your service, you should also purchase quality towels. The towels you use will be used for wiping and rinsing the vehicle's surface, so they need to be able to handle moisture. They should also be absorbent and breathable. There are a number of different towel options on the market, including size, pile, color, and material. Towels that are made of microfiber are generally the best option for this type of work, as they can hold a lot of water and have a soft feel.
Another important safety measure for a mobile detailer is to wear a respirator mask when spraying cleaning products or degreasers on a vehicle. In addition, it's a good idea to have an emergency kit that includes first aid supplies and safety goggles. In addition, you should wear long pants and sleeves to protect your skin from the acidic chemicals used in this type of service.
If you are interested in starting a mobile detailing business, it's a good idea to research your area and potential customers. You can find this information by searching online and checking out local listings on social media. You can also use this information to create a business plan and develop your strategy for gaining customers.
A mobile detailing business can be a lucrative business opportunity for entrepreneurs with little to no startup costs. Unlike traditional brick-and-mortar locations, a mobile detailing business can be run from any location with a cell phone signal. The industry is growing, so it's a great time to start your own detailing business.
Customer Service
A mobile detailing service can come to your location and perform a thorough job. They can clean all the surfaces of your car and give it a sparkling shine. They will also remove any stains on your upholstery and interior panels. These services can save you a lot of time and hassle. You can ask your friends and family for recommendations before hiring a professional mobile detailer.
Aside from providing a premium quality car wash, a mobile auto detailing company can offer additional services like ceramic coating and PPF. These protective films help to protect the paint of your vehicle from rock chips, small scratches, UV light, mineral deposits, acid rain, and other environmental factors. They can also extend the lifespan of your car and protect it from road debris.
Some of the other services that are offered by a mobile detailing business include vacuuming, steam cleaning, and shampooing. They can also provide leather conditioning and headlight restoration. They can also remove tar and bug residue from your car's exterior.
Many people use a mobile detailing service because it is more convenient than going to a traditional car wash. This service can also improve their car's value. They will be able to sell it more quickly if they have a spotless vehicle. Moreover, the vehicle's interior will be in better condition and smell cleaner. In addition, the engine will run more smoothly. Lastly, they will be able to avoid costly repairs due to dirt build-up.
Aside from improving the look of your vehicle, a mobile detailing service can also make it easier to drive. Dirt and grit can cause damage to the suspension, steering, and transmission of your vehicle. A professional mobile detailer will clean and remove these contaminants, which can prevent your vehicle from leaking oil or having mechanical issues.
To ensure you get the best possible car detailing service, finding a reputable company with a solid track record is important. You should also invest in the right equipment and supplies to keep your vehicle looking its best. For example, a good mobile car detailer will have an efficient workflow with software that allows them to streamline invoicing, scheduling, and field management.